LAND DEVELOPMENT GROUP
With more than 45 years of experience and know-how our Land Development Group proudly sustains its corporate identity obtained on the market as a reliable group undertaking high quality developments. Our group designs and builds satellite towns with full infrastructure and recreation areas, respectful of environmental principles and operates according to modern management organizations and offers them to quality conscious clients.
Our Group that creates a difference in each of its projects and offers a new life style has realized the most prestigious land development undertakings. The fact that projects we accomplished years ago are traded at values above those of new projects on the market is a proof of the success of the projects developed.
The 2011 activities and future of our Group that has undertaken a developer role in housing constructions at home and abroad are summarized below.
Activities At Home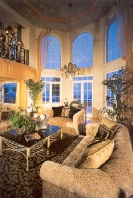 Alkent İstanbul 2000
A total of 860 families are enjoying a privileged life style at Alkent İstanbul 2000 Recreation Town which is one of the most prestigious settlements of İstanbul with its modern and unique concept.
The new project to be built in this settlement located among greenery facing the lake in Büyükçekmece has been offered to the market with mansion type large villas have been delivered to their owners. The "Wattabe Nature Sports Club" that offers possibilities of nature and lake sports and is a part of the marketing activities of this project has been completed and is ready for the use of the clients.
Contact Information: Zeynep Celayiroğlu +90 212 889 34 35
Alkent Riva
Alkent Riva is a project developed with our long experience in the sector in the Riva area and consists of independent villas and apartments to be constructed over an area of approximately 6,000 decares.
The concept of the project has been designed so as to direct the residents to sports, learning and enjoying life.
The infrastructure work and efforts to get authorization at Alkent Riva located 22 km away from the FSM bridge through the TEM motorway are being maintained.
New Satellite Town Projects
We have started to design new sattalite towns with the objective of satisfying the housing requirements for earthquake resistant and quality residences in leading locations situated in the preferred areas of İstanbul. We plan to start these projects following negotiations conducted with land owners.

Activities Abroad
We are maintaining our land development work abroad especially in Russia. Various projects were realized in previous years with the Moscow Municipality within the framework of an equal share partnership. A total of 14% of the business centre projects developed ahve been sold and 73% have been rented. Due to the animation observed in the Russian market and the Turkic republics, we plan to develop new projects in these countries. Our efforts within this scope are ongoing.